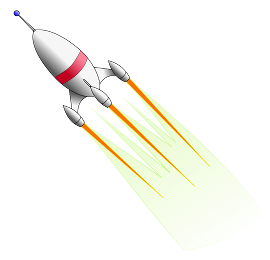 Welcome to the Rocket Math Spaceship Math home page at DadsWorksheets.com.  Below you'll find direct links to the Spaceship Math practice worksheets for all of the basic operations. Also, you'll find a convenient web-based timer for administering practice tests.
Everything you need to rocket your kid's math performance straight into orbit is below. If you find these materials useful, be sure to check out the rest of the math related content on the site. Good luck!
Please note that Spaceship Math is not the official RocketMath curriculum offered by R&D Instructional Solutions, and as per Dr. Crawford's request in the discussion below, we've renamed the practice worksheets here as 'Spaceship Math' to avoid any confusion with the RocketMath commercial product.  Educators interested in using Rocket Math in their classrooms are encouraged to check out http://www.rocketmath.net for details.
| | |
| --- | --- |
| Spaceship Math Strategies | |
| Spaceship Math Addition Worksheets | |
| Spaceship Math Subtraction Worksheets | |
| Spaceship Math Multiplication Worksheets | |
| Spaceship Math Division Worksheets | |
| Spaceship Math Practice Timer | |
Printable Spaceship Math Progress Check Off Pages