Travel Time and Distance Word Problem Worksheets
---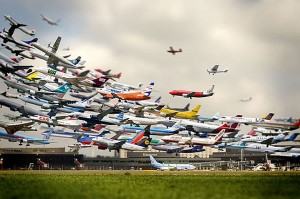 It's not too early to start thinking about summer vacation, is it?
The worksheet work has kept this Dad busy, making me think longingly of some sort of vacation. Tropical. Swimsuit-friendly. Well, after a diet. Alright, two diets, maybe.
Apart from the added calories, last week's work on the Girl Scout Cookie Division Worksheets cleared the runway for a new series of division with remainder word problem worksheets, a whole collection of which you'll find waiting for your young math minds at the link here...
Division with Remainder Word Problems
But, that's not all! Book your reservation now and we'll throw in 80 free Travel Time and Distance Word Problems absolutely free! The division with remainders work was a necessary prerequisite for working out the time and distance math needed for travel story problems, those common wayfarers that seem to drag tests and homework on forever, making thoughts stray to sandy beaches and distant summer plans...
Travel Time and Distance Word Problems
These new worksheets start simple but progress up through solving time/distance/velocity word problems using fractional hours. Variants in both customary and metric units are provided for international travel fun.