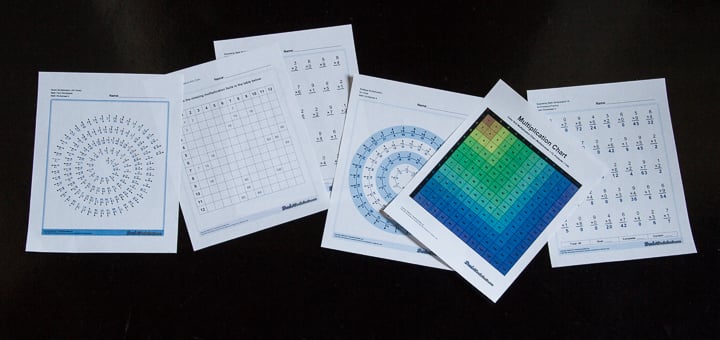 Multiplication Worksheet Updates
---
I give up.
No really, I've had it. With HTML that is. We're coming up on the 9th anniversary of DadsWorksheets.com, and as much as I've tried to ride the waves of changing HTML standards, print media style sheets, flexbox and every other solution to wrangling layouts, I've finally reached the conclusion that getting consistent printable output from a web page is a bridge too far.
So, dear friends, you'll notice that over the last week or so I've converted all of the worksheets to PDF files. You'll navigate to them just as you did before, but the worksheet display will be subtly different. Answer keys, where appropriate, are included in the files now. There's a PDF viewer for each worksheet, and you'll be able to print directly from the browser using the big "Print" button just as you always have, or alternatively you can download individual worksheet files by clicking the button in the PDF viewer's controls. If you have trouble printing from the browser (and yes, I'm talking to you Safari), you can always fall back to downloading the worksheet PDF file and printing from Acrobat or another PDF application.
The good news is that this step will allow me much more control over the worksheet layouts. Right now many of the worksheets still look just like they always have, but I've completely updated the multiplication worksheets and the multiplication charts.
I think they look amazing, and I hope you do too.
You'll find the content centered much better and with much nicer font presentation... Many of the problems are laid out for better readability, and I'm able to take full advantage of the page coming out of your printer. You can check them all out at the links below...
Multiplication Worksheets Multiplication Charts
If you liked what I had on the site before, you'll love these new worksheets! I'll be updating the addition, subtraction, division and the other math topics over the coming weeks. Meanwhile, if these new multiplication worksheets or multiplication charts give you any trouble, or if you have any comments on the new layouts, please let me know in the comments below!
Meanwhile, thanks as always for using the site and helping make DadsWorksheets one of the best free math resources on the web!