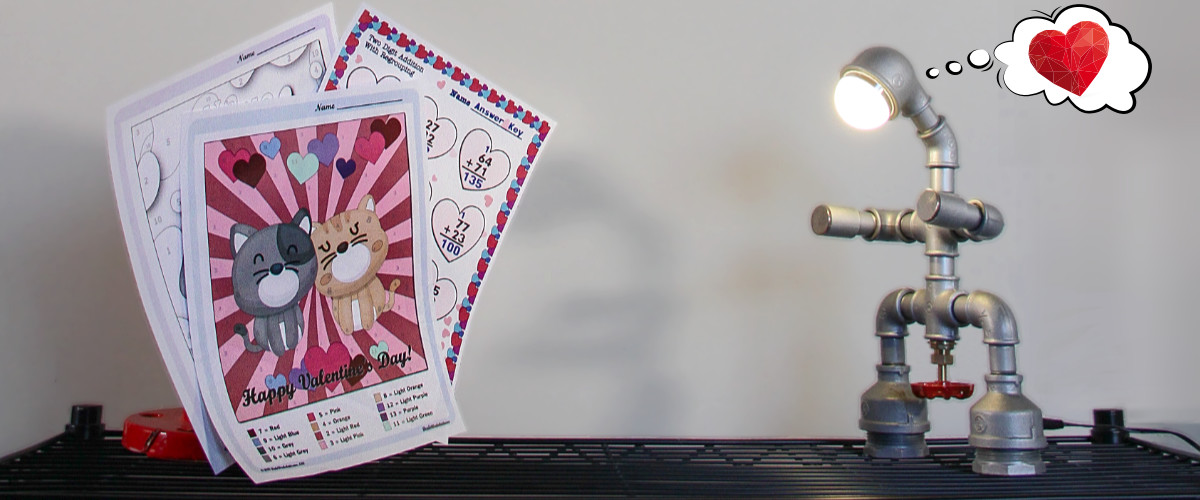 How do you say 'Happy Valentine's Day' in Robot-Speak?
Nothing welcomes the coming end of winter like a little chocolate, and with Valentine's Day right around the corner you're not likely to be disappointed. But robots aren't tempted by sweets, and our little mechanical friend above clearly has his heart set on something else... A little math! You can see what he's excited about by clicking the link here...
These new printables introduce a new type of worksheets... Coloring Pages! I've added your basic color-by number variations, but you'll also find worksheets that cover addition, subtraction, multiplication and division coloring pages that will test math fact skills. But don't think I've neglected more advanced topics! There are pages with multi-digit problems (with and without regrouping where appropriate), long division and more.
Please check them out and if you like them, I hope you'll share these worksheets with other educators who would find them useful! I'll be adding more holiday themed worksheets throughout the year, so if you have a special request drop me a note in the comments!
Happy Valentine's Day!