When you're teaching your kids math, you need all the extra lesson materials you can find. This website is here to help!
DadsWorksheets.com has over 7,400 free math worksheets created by a Dad for his two daughters. You'll find multiple versions of worksheets for different topics, letting you drill without reusing the same problems over and over again. Whether you need timed tests for learning basic math operations, multidigit multiplication, long division, measurement, units conversions or other more advanced work, DadsWorksheets.com has you covered.
These worksheets are free for you to use to teach your kids math. There are no subscriptions or registration forms. Open them up, click print, put a pencil in the little one's hands and stand back.
You can browse the complete list of worksheets by expanding sections of the "Worksheets" menu at the side of this page. This menu appears on most of the navigation pages on the site and is a great way to find exactly what you need.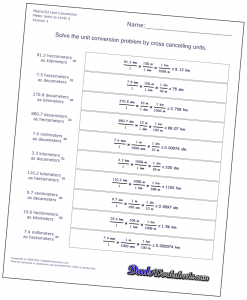 All of the worksheets have answer keys, and many of them show how the answer was calculated. A good example of this is in the answer keys to the long division worksheets; you'll get the whole part of the work underneath the division problem, not just the quotient. This lets your child see how the answer was calculated, and helps them find and fix mistakes they may have made getting there.
If you're already teaching fractions, the answer keys for the fraction worksheets are similarly useful. The keys show cross cancelling in the fraction multiplication and fraction division worksheets, as well as common denominators for fraction addition and fraction subtraction. I'm particularly proud of the fraction worksheets. I taught my oldest daughter with them and I hope some of you will get good practice of out them too.
If the site is useful for your family, I hope you'll consider book marking it and coming back! Worksheets are added and updated regularly, and if you have a suggestion feel free to post a comment or question here.
Thanks for visiting and welcome to the family!